Dinosaur Party Ideas



Dinosaurs Party Supplies
at Celebrate Express
Dinosaur partyware and invitations, cake toppers, pinatas, personalized banners, party favors, activities, and dinosaur costumes!




Dinosaur Cake Pan and a cute Dinosaur Party Theme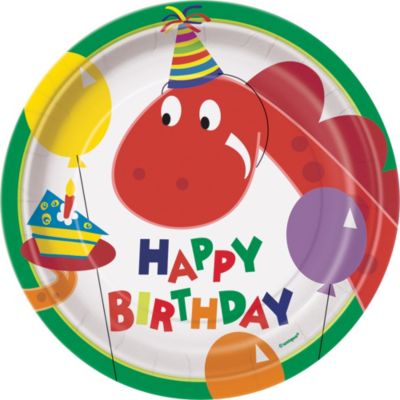 at Birthday in a Box


Decoration Ideas

T-Rex Stand Up
A dinosaur standup or large inflatable dinosaur would make a big impression!


Party Invitations

Party Food

Party Activities
The Dinosaur Museum - Blanding, Utah
Dinosaur Walk Museum - Riverhead, Long Island, New York
North American Museum of Ancient Life - Thanksgiving Point / Lehi, Utah (cool website, with online games, so drop by for a virtual visit!)
Dinosaur Valley State Park - Glen Rose, Texas
Dinosaur Journey Museum - Fruita, Colorado
Mesalands Community College's Dinosaur Museum - Tucumcari, New Mexico
Dakota Dinosaur Museum - Dickinson, North Dakota
Makoshika Dinosaur Museum - Glendive, Montana
Dinosaurs Rock - Scroll down to the bottom of the page for links to their various locations. They bring the party to you!
Find more...just Google: dinosaur museum.

Don't live near a dinosaur or natural history museum? The National Park Service's Dinosaur National Monument website has two virtual tours, Virtual Tour of Cliff Face and Dinosaur Virtual Museum. Very educational, and perhaps you can gather some facts for a game of dinosaur trivia!

Another possibility is a local children's museum. Some have dinosaur dig areas, plus lots of other activities for kids. My granddaughter enjoys the dino dig and Dinorama areas at the Utica Children's Museum. One great thing about children's museums is they are likely to have activities and displays suitable for different ages and interests, so children can explore what they like. If some guests have memberships, it may help keep your costs down if they don't have to pay admission. Check with the museum first to make sure it can apply to a party situation. Also, find out if parents who stay need to pay admission for a children's party. The museum might prefer to let them in free so they will be there to supervise their children! If they're reluctant, perhaps you can negotiate a reduced price for parents...point out that if the parents see how much fun their children have, they may buy a membership, or have their own child's party there!